Paradise Island, located just off the shore of Nassau, Bahamas, is a tourist attraction best known for housing the famous resort Atlantis where people come from far and wide to take a break from their stressful lives. The 685 acre island is connected to the island of New Providence by two bridges that go across the Nassau Harbor, which were designed by HNTB. The 36 feet wide and 1,560 feet long roadway carries two lanes of traffic and consists of 15 concrete spans and 3 high elevation main channel spans.Opened in 1967, the Paradise Island East Bridge is the oldest of the two bridges and with millions of tourists and residents crossing the bridge every year.
Spending much of my childhood in the area historically know as "The Pond" the Paradise Island Bridge was always a part of my landscape. It's relevance increased when my mother began working at what was Resorts International. Twice daily I would cross this bridge. In the morning to deliver my mother to the hotel and in the afternoon to collect her. I remember loathing having to sit in the sea of traffic on the bridge always secretly fearing that it would one day collapse with all of us trapped in the car. Fortunately that never happened. Then one day it just kind of hit me like a flash of lighting the importance of the Paradise Island Bridges to The Bahamas. It is for many of us more than just a structure. It is a link to our survival. If you think I am being hyperbolic just ask the countless hotel workers that rely on the bridge to get to and from work everyday. It is also that connection that allows the visitors to access their hotels . This was even more evident especially after the arrival of the Atlantis.

I have always preferred to photograph both bridges at night because of the evening sky and the reflective lights. They add elements of color and drama to the image. The deep shadows provided in the evening accentuates its shape.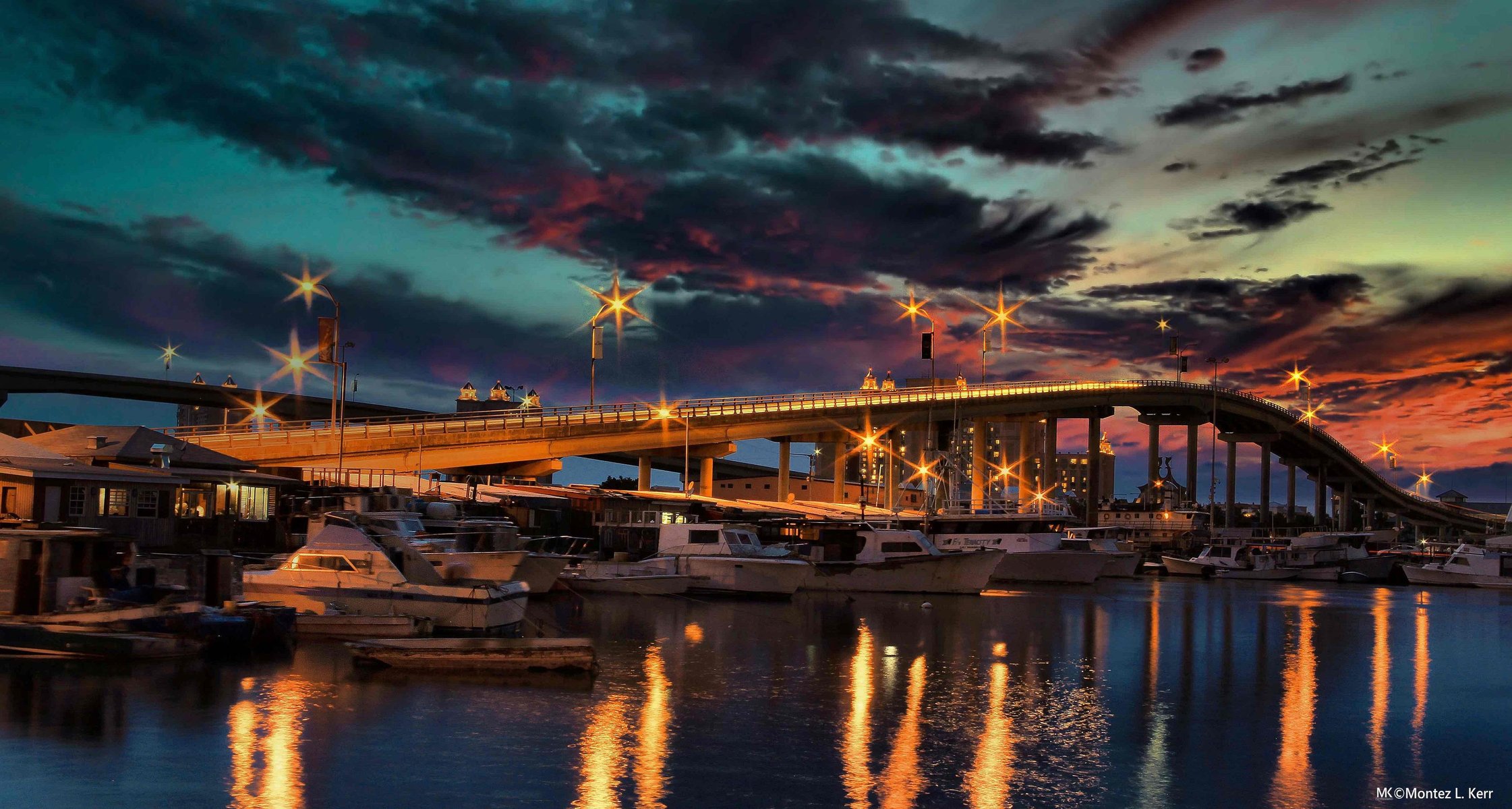 I also at times like to explore the the lines of the bridge which are best depicted in black and white. For these types of images I like to experiment with shutter speed and light. This way I can eliminate any distractions from the final image.
In my humble opinion both bridges are landmarks of the Bahamian landscape. From providing a way for people to get to and from work or simply walking the bridge for exercise . They have definitely become a part of the Nassau and Bahamian experience.